Fire Safety: Level 4:
Draft Enforceable Documents
Draft Enforceable Documents
Target audience
Fire Safety Managers, Officers, Auditors and Inspectors.
---
Aim
To enable delegates to draft statutory enforceable documents for purposes of fire safety regulation.
---
Core topic areas
Legislation, offences and notices
Identifying offences and responsible person
Requirements: drafting statutory enforceable documents
Drafting statutory enforceable documents
---
Core Reference Documents
Regulatory Reform (Fire safety) Order 2005
BIS: Regulators' Code
HSE: Enforcement Management Model
CFOA: Enforcers' Guidance
CFOA: Article 31 Prohibition / Restriction Notices
---
Assessment
Assessment of course work is to NOS.
---
Qualifications and NOS
This course includes the assessment criteria for NOS:
This NOS is from qualification: Level 4 Diploma in Fire Safety (Fire Inspectors): details
---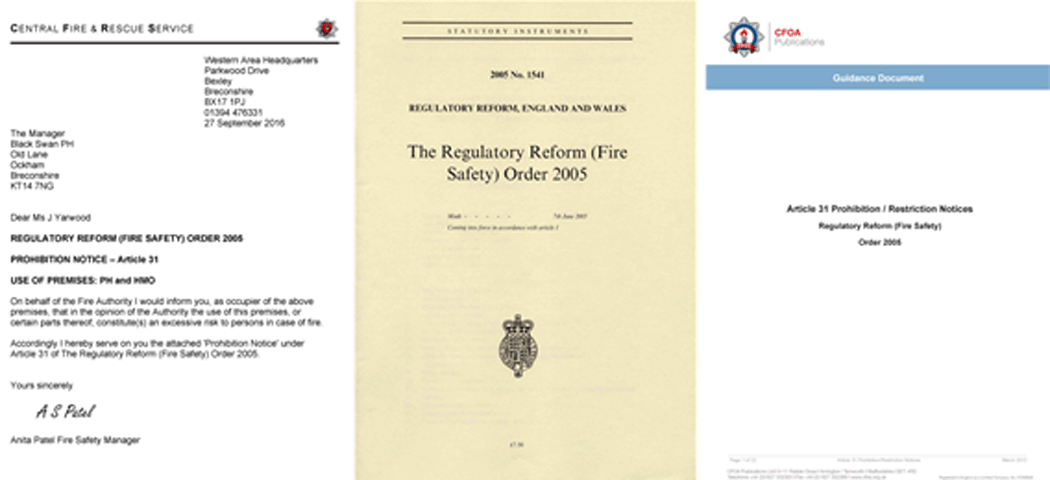 Dates and Prices
Duration
Distance learning module
Dates
1st of each month - contact us for start date

Delegate Cost
£130.00 + VAT
Location
Work based learning
Accommodation

Not applicable

Request Dates
---
Prior Learning
Delegates must have completed the Level 4 Certificate in Fire Safety or equivalent.
---
Pre-Course Modules
None.
---
Delivery
Provision of reference material, course workbook and mentoring.
---
Post Course
Delegates must complete workbooks within 4 weeks of receiving the documents.
---